Have questions? We're here to help.
Contact us today to get started on your project.
Request a free flooring estimate
Keep me up to date with exclusive offers.
Success!
Thank you! We'll be in touch shortly.
Carpet basics
There are a few things you need to know. We will call them the basics, before you decide on which carpet to install. These things can make a big difference. If you choose an option that doesn't fit your needs, you will likely have to replace the carpet in just a few years time.

For starters, there is the construction of the carpet. There are two basic types:

All carpet fibers and woven through the backing in loops. Loop pile is what you wind up with if the carpet is left alone after the initial weaving. Cut pile is when those loops are cut, so that the fibers can stand up straight. You can also have patterned loop, where the pattern is created by varying heights in the looping, and cut and loop, when the two styles are combined.

Next come the fiber types. These are very important, as each of them have different advantages and disadvantages. Some of the most commonly talked about are:

Wool is the only carpet fiber that is made of natural material. It is also the most expensive, yet most sought after fiber. Nylon is an excellent choice, as it mimics wool, without the lofty price tag. Polyester is more affordable, but does not stand the test of time like the first two. Olefin is your go-to choice for outdoor areas and areas that are prone to mold and mildew caused by moisture. It is extremely resistant to these factors.  
Cut pile
Loop pile
Wool
Nylon
Polyester
Olefin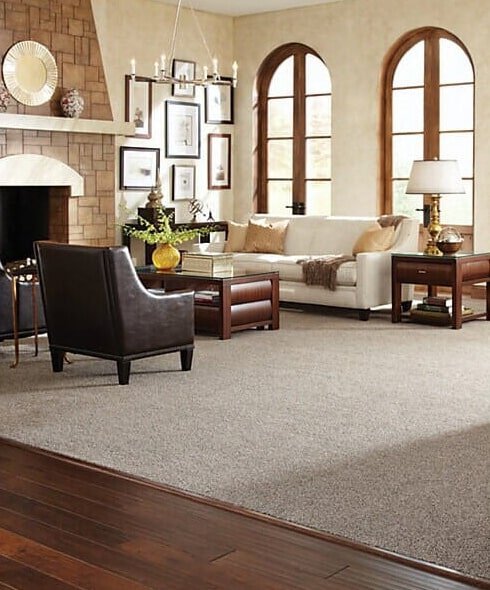 Wide variety of styles
Try low-profile carpet, which is short and dense, if you don't like the soft and shaggy types. On the other hand, it could be that you are looking for colors and styles to fit the particular look of a certain room in your home.

The fact is, the possibilities are nearly limitless. Once you've decided the construction and the fiber type that best suits your needs, then the fun can begin! At Jerseyville Carpet & Furniture, we can help you with that.

To check out all the available options that you can choose from, come visit with us at our showroom in Jerseyville, Illinois and find your perfect carpet.